Ending homelessness, rebuilding lives
St Mungo's outreach teams go out each night to meet people who are homeless and to help them off the streets. With 17 outreach teams we are one of the largest providers of outreach services in the country.
Each night we offer a bed and support to more than 3,200 people across London, the south east and south west. We believe that people can – and do – recover from the issues that cause homelessness. We work to prevent homelessness and support people at every step of their recovery from homelessness.
Where we work
Cost of living crisis
We are facing a once in a generation cost of living crisis. It will have a direct impact on people experiencing, at risk of, or recovering from homelessness.
Find out more
Spotlight on Putting Down Roots
Matt Woodruff, Horticulture Skills Manager, shares his work supporting St Mungo's clients through Putting Down Roots. Putting Down Roots is a horticultural therapy and training project, using gardening as a tool to help people in their recovery.
"It establishes a routine by asking participants to commit to attending regular sessions, and taking responsibility in caring for plants.
Learning to nurture something else helps people to learn to nurture themselves, and there is a parallel between the growth and development of plants and the growth and development of people."
Watch the video to hear from people who have benefitted from our Putting Down Roots program. Click on the button below to hear more about Putting Down Roots from Matt.
Find out more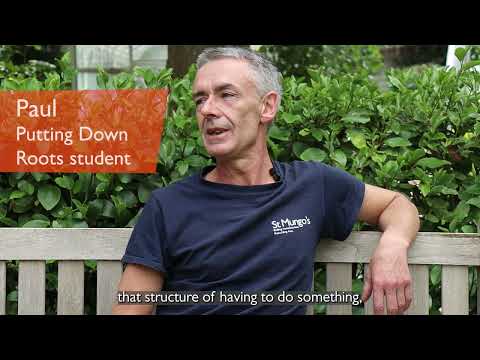 play