Ending homelessness, rebuilding lives
St Mungo's outreach teams go out each night to meet people who are homeless and to help them off the streets. With 17 outreach teams we are one of the largest providers of outreach services in the country.
Each night we offer a bed and support to more than 3,200 people across London, the south east and south west. We believe that people can – and do – recover from the issues that cause homelessness. We work to prevent homelessness and support people at every step of their recovery from homelessness.
Where we work
Rah's story
After suffering a divorce and ending up in a psych ward, Rah and their cat Harvey found themselves left with nowhere to go. Most homeless services don't accept pets. But luckily, the council put Rah in touch with St Mungo's, where both were given a home in one of our hostels. 
"If I had to separate from Harvey I would find it really hard. I don't know what I would do in that situation; it would be really difficult.
Harvey and I are happy here. She loves having people around and doesn't like being by herself. When I lived on my own she'd always get sad if I was out."
Read their story
Spotlight on Putting Down Roots
Matt Woodruff, Horticulture Skills Manager, shares his work supporting St Mungo's clients through Putting Down Roots. Putting Down Roots is a horticultural therapy and training project, using gardening as a tool to help people in their recovery.
"It establishes a routine by asking participants to commit to attending regular sessions, and taking responsibility in caring for plants.
Learning to nurture something else helps people to learn to nurture themselves, and there is a parallel between the growth and development of plants and the growth and development of people."
Watch the video to hear from people who have benefitted from our Putting Down Roots program. Click on the button below to hear more about Putting Down Roots from Matt.
Find out more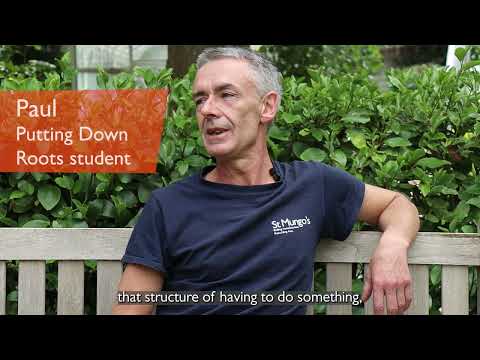 play