Support Putting Down Roots
We are incredibly excited that St Mungo's will be taking part in this year's RHS Chelsea Flower Show in May 2022. With a garden on the prestigious main avenue, we will be celebrating our recovery and skills project, Putting Down Roots.
Putting Down Roots can be truly life changing, and it's all made possible by supporters like you. You could help us deliver more unique projects like this by making a donation today.
£25 could provide a waterproof jacket and trousers, and get someone started on their learning journey.
Donate £25 now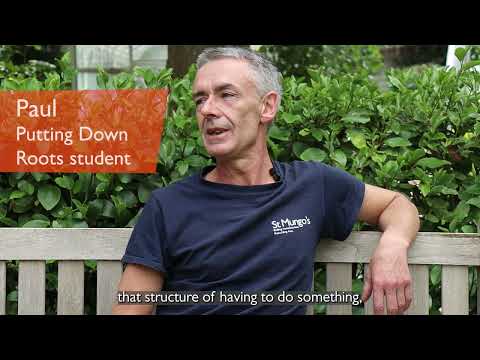 play
About the garden
Supporting clients to recover from homelessness while shaping spaces and reusing materials is at the heart
of this garden.
The St Mungo's Putting Down Roots garden will be what's known as an 'urban pocket park', bringing people and plants together in the city, to highlight the way that green space can improve people's health and wellbeing.
"The planting focuses on green textural foliage punctuated with floral accents of colour, giving the garden a sense of tranquillity, contrasting with the vibrant colours in the hard landscaping, made from recycled materials.

Large planters throughout provide a sense of height and enclosure, creating an immersive experience for users.

A pavilion structure and seating provide opportunities for respite from the pressures of city life."

Darryl Moore, Landscape Designer, Cityscapes
Hear from Darryl