Support our work
Putting Down Roots can be truly life changing, and it's all made possible by supporters like you.
You could help us deliver more unique projects like this by making a donation today.
£50 could provide a waterproof jacket and trousers, and get someone started on their learning journey.
Donate £50 now
About Putting Down Roots
Putting Down Roots is a horticultural therapy and training project, using gardening as a tool to help people in
their recovery.
For 21 years, the programme has helped people recovering from homelessness to grow their confidence and skills, and to rebuild their lives through gardening. Putting Down Roots helps to build people's self-esteem, confidence and sociability.
It establishes a routine by asking participants to commit to attending regular sessions, and taking responsibility in caring for plants. Learning to nurture something else helps people to learn to nurture themselves, and there is a parallel between the growth and development of plants and the growth and development of people.
"The most rewarding part is getting to see a tangible difference in people in a very short period of time. The transformations are amazing and it feels like a privilege to be part of that."

Matt Woodruff, Horticulture Skills Manager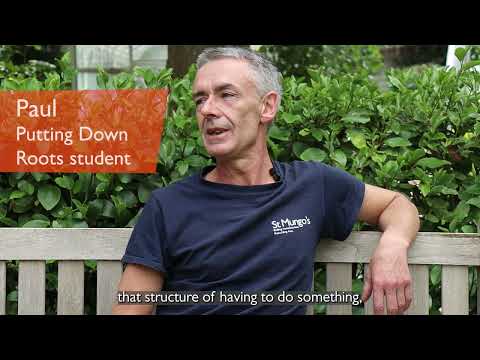 play
About the garden
Supporting clients to recover from homelessness while shaping spaces and reusing materials is at the heart
of this garden.
The St Mungo's Putting Down Roots garden will be what's known as an 'urban pocket park', bringing people and plants together in the city, to highlight the way that green space can improve people's health and wellbeing.
"The planting focuses on green textural foliage punctuated with floral accents of colour, giving the garden a sense of tranquillity, contrasting with the vibrant colours in the hard landscaping, made from recycled materials.

Large planters throughout provide a sense of height and enclosure, creating an immersive experience for users.

A pavilion structure and seating provide opportunities for respite from the pressures of city life."

Darryl Moore, Landscape Designer, Cityscapes
Working with partners
The St Mungo's Putting Down Roots garden has been designed by our long standing partner Cityscapes and generously funded by Project Giving Back at no cost to
St Mungo's.
The garden celebrates 10 years of St Mungo's and Cityscapes working together towards a shared vision of transforming lives, communities and places through gardens.
Find out more