People can suffer abuse while they are homeless. They can be spat at. Screamed at. Left alone in the cold, too scared to sleep. 
A dog can often feel like the only companion for someone sleeping on the streets. They provide solace and comfort during what can be an extremely difficult time. Forced to choose between shelter and their dog, many risk sleeping rough in dangerous conditions rather than being separated.
Here at St Mungo's we recognise the powerful emotional support a dog can provide. That's why we are one of the only charities to accept pets in our hostels. 
By giving to St Mungo's this winter, you can help save two lives. 
Justin and Gunner
"It is nice to have someone there with you. It gives you a reason to go and do something. He is my best friend".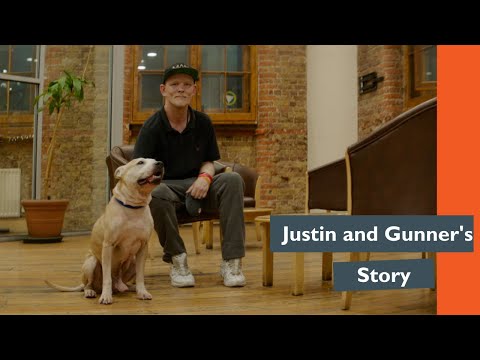 play
Donate by phone
Call us on 020 8600 3000
Lines are open between 9am-5pm Monday - Friday. 
"St Mungo's helped a lot, thank God they accept pets! Because I don't know where me and Benjie would be today otherwise."
Read Charrissa's story